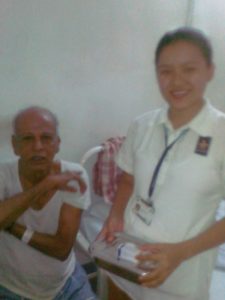 I would like to take this opportunity to thank you for your generosity in providing financial help to me for my B.Sc. nursing course through the Tibet Charity office.
I feel highly lucky and privileged to be the recipient of this scholarship.
My name is Ngawang Dolma. I was born in Hunsur Tibetan Settlement in south India and brought up there by my lovely parents – father Sonam and mother Chokey. It was a dream since my childhood to help needy and sick people. I thought the best way to help such people would be to become a nurse. Your kind help has enabled me to join the Manipal College of Nursing which is a prestigious nursing institute known all over India and approved by Indian Nursing Council.
I sought your scholarship because my parents are old and they are not in any position to bear the expenses of my studies. Our main source of income is farming and a petty sweater business in winter. My youngest brother is the breadwinner in my family. Knowing all my problems, you have accepted me and extended the scholarship for one more year to cover my final year of studies. I am very thankful for your kindness.
I successfully completed my B.Sc. nursing course in August of 2011. I have done my best in both theoretical and practical courses throughout the entire program. After finishing my course I have confidence to work in any hospital.
Presently I am working in the main Manipal Hospital which is a two hour journey from Mangalore, where I studied. The hospital is quite large and is ISO certified 9001:2008. The hospital has 2300 beds with multiple specialties, including oncology, cardio, nephrology, medicine, dental, orthopedics, pediatrics, geriatrics, plastic surgery, operation theaters, etc. It has been two months since I began this job and it's all running smoothly. I have selected cardiology specialty, and presently I am working in the cardiology surgical ward. Within one year I will be exposed to all the specialties. My aim is to help all the brothers and sisters who have suffered under the Chinese once we get our freedom. I will try to acquire maximum experience in the hospital. If I find time to visit Dharamsala, I am ready to contribute my best to your service.
My future plan is to do a M.Sc. in Cardiology if finances permit it. I want to specialize in cardiology. I hope I will able to fulfill my dreams. Once again, I offer my sincerest thanks to H.H the Dalai Lama, my dear sponsor Erda Gschwendtner, Save Tibet Austria, the Tibet Charity office and all the staff members of Tibet Charity for your generous support of my studies. I am sure you will continue with your spirit. There are many Tibetan students who really need you.
Yours Sincerely,
Ngawang Dolma
TCS – 8
Staff nurse
Manipal Hospital